If you fall within the same age group as me, let's just say I'm old enough to know better, then you'll remember the choices of kids sunglasses back in the day were very limited, and none too stylish. Our options were pretty much the run-of-the-mill plastic frames adorned with, either a famous Disney mouse, or some other kind of cartoonish character. Not only did they make you look like a little kid, but I'm pretty sure they also offered very limited UV protection as well.
Let's face it; being a kid today can be tough. If you don't fit in, day-to-day life can be excruciating. Since today's kids have more fashion sense than we used to when we were young, the demand for fashion accessories, which includes kids sunglasses, are set pretty high. They not only have to look good, but they also have to be in style.
If I want to be shunned by my nieces and nephews, the sure fire way is to buy them a pair of sunglasses that I remember growing up with. If I want to be known as their 'favorite Uncle Kirk', well then I'll give them a pair of stylish kids sunglasses, such as:
These cute girl's sunglasses shaped like hearts with whiskers: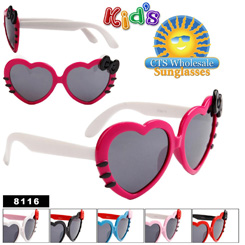 Or these two color California Classics: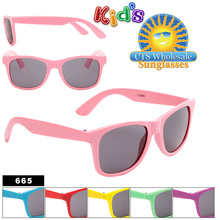 For the boys, we have camouflage aviators: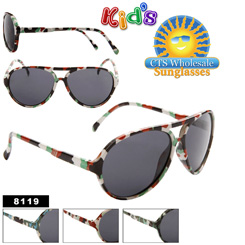 As you can see, kids now have the option to sport a pair of stylish, trend setting sunglasses, that actually do offer UV 400 protection, which blocks 100% UVA and UVB rays. So take it from 'favorite Uncle Kirk', forget about those hokey kid sunglasses and pick up a pair of fashionable kids sunglasses for those special little adults in your life.