As usual, the CTS Team has outdone themselves in their pursuit to provide customers with yet another way to easily purchase best selling sunglasses. Recently CTS has developed two new Package Deals that each include a popular sunglass display. Perhaps the most interesting part about these new package deals is the fact that they come with dozens of sunglasses that are comprised of assorted styles. This is a terrific way to offer an incredible selection of sunglasses to potential buyers without buying an assortment of different dozens. Generally each dozen sunglasses only contain assorted frame colors and lens tints, where as these package deals will contain assorted sunglass styles within each dozen. Currently the two newest packaged deals are SPA12 & SPA13. SPA12 offers 84 pairs of sunglasses with a very popular rotating floor model display that has locking capabilities. This package deal has a retail value of $835.80. The display itself holds 48 pairs, so you'll have a nice inventory on hand to keep the display full and impressive. SPA13 alternately has 144 pairs of sunglasses as well as a rotating floor model sunglass display that holds 120 pairs of sunglasses. SPA13 has a retail value of $1432.80. As you can see, these new package deals have been created to make stocking up and reselling sunglasses as easy as possible, while still being an incredibly lucrative investment.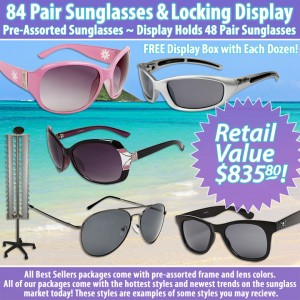 In other package deal news there have also been several new sample pack additions to CTS. Sample packs are sold by the dozen, with each dozen containing an assortment of styles of sunglasses. You are now able to purchase sample packs of 1 dozen sunglasses, all in your favorite brands! DE™ Designer Eyewear, Diamond™ Eyewear & Xsportz™ are now available in mixed dozens, allowing you to receive a nice assortment of sunglass styles within each dozen. And of course each dozen will come in a Signature Logo Display Box. If you've been thinking of checking out the quality and range of styles available, this is an ideal way to do so.
And last but not least, there is also a new Safety Glasses Sample Pack. In this sample pack you can receive a variety of yellow, clear and tinted safety glasses. All of the wholesale safety glasses are made of Impact Resistant Materials.