Posted by Jim Connolly on 29th Jun 2015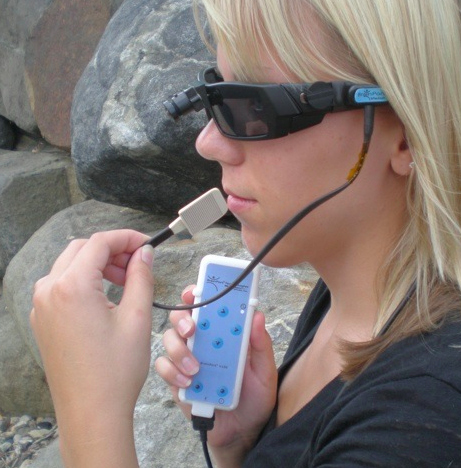 News reached me today of an exciting, potentially life-changing innovation for blind people. Whilst those using the device look as if they have a regular pair of smart sunglasses on, these are no ordinary smart sunglasses.
They allow the wearer to identify if the images around them are stationary or moving. As you can imagine, this is extremely useful for a blind person and helps them assess their environment more accurately.
The BrainPort® V100
The F.D.A. [Federal Drug Administration] issued a press release, to confirm that it has allowed the marketing of a new device, to help the blind process visual signals via their tongues.
The device referred to is The BrainPort® V100. It's created by some very smart folks over at Wicab Inc. Very briefly, the device comes in 3 parts.
There's a pair of what look like wraparound sunglasses, which contain a 1 inch camera. The camera sends images to a control unit.
The control unit then picks up the image from the camera and converts it.
Then there's a small wafer thin section, which the wearer inserts into their mouth. This unit contains 400 electrodes, which pulse, depending on the image sent via the camera. The pulsing apparently feels a little like fizzy water on the tongue at first. Eventually, the user is able to "read" the pulses and detect whether the objects around them are moving or stationary.
Users will need to go through 10 hours of training, in order for them to be able to use the device correctly. The makers say that in tests, the BrainPort® V100 was found to be effective in 69% of people with no usable vision — both those who were congenitally blind and those who had "acquired" blindness.
It's inspirational to learn about the advances being made, for those with little or no vision. There's massive potential for this device to enrich the lives of a huge number of people. In the United States alone, there are over 1.2 million people who are registered blind.
And finally folks!
Don't forget, CTS Wholesale Sunglasses is here 365 days a year, to help retailers provide high quality products to their customers. If you're a retailer and you would like to know more, simply click here.
We look forward to hearing from you.
Photo property of Wicab Inc.