Posted by James on 5th Jan 2015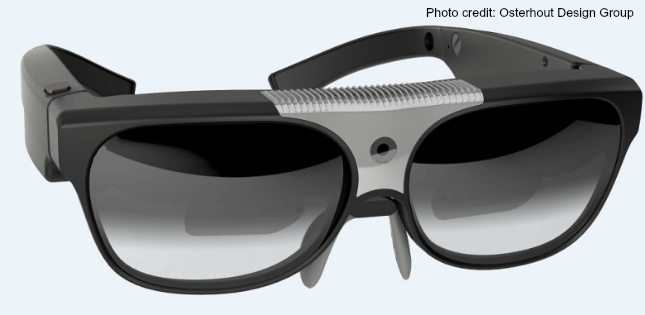 The past few years has seen a surge in the production of technology-loaded eye ware. Google Glass is maybe the best known, but a number of other companies have invested in the technology. As I reported last month, Sony has entered the niche with it's, as yet, unnamed device. You can read all about it here. These are still early days for this device category, and the rewards for becoming a frontrunner are huge.
More like regular sunglasses
I've just learned about perhaps the most natural looking OHMD or "optical head-mounted display" glasses out there. They are designed by Osterhout Design Group [ODG] and as you can see from the image above, they look very similar to regular sunglasses.
Why does it matter that they look like regular sunglasses or eye wear?
One of the major reasons stated for sluggish adoption of OHMD smart glasses, is that they really stand out. This has resulted in a number of problems, with some Google Glass wearers assaulted for wearing them in public. These glasses are capable of taking photos and recording videos, making many people feel extremely uncomfortable, when they encounter a stranger wearing them.
ODG has been developing OHMD glasses for the government and corporations for 6 years and they have invested $60 million in refining and improving their designs. Their new R6-S smart glasses are aimed at the consumer market and will be unveiled at the 2015 CES show in Las Vegas. They weigh just 5 ounces and contain a display, which is the equivalent of looking at a HD TV.
The San Francisco company names a number of interesting use-case scenarios, which could make their R6-S smart glasses a hit. One of them is the ability to use their smart glasses to get work done on a train or airplane, without anyone else being able to see your display. They also claim their smart glasses can deliver an HD experience, even in sunlight. This would allow users to watch movies, for example, pretty-much anywhere.
A key challenge is getting the $5000 worth of technology into a device, which many believe will need to retail at around $1000 to be a consumer hit.
And finally folks!
Remember, if you are a retailer who either stocks sunglasses or wants to become a stockist, CTS Wholesale Sunglasses are here to help. Just click here to get in touch.