Posted by James on 25th Sep 2014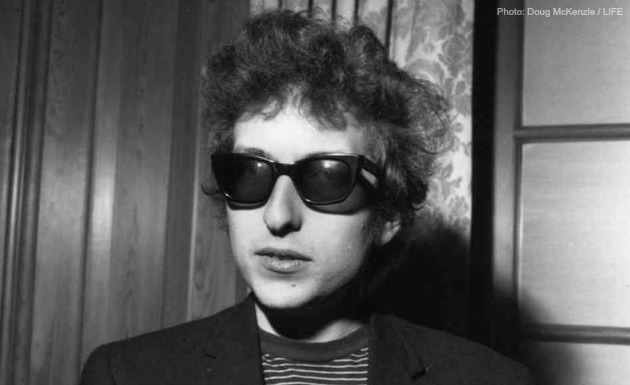 Few stars of the music industry have influenced as many people as Bob Dylan.
By the time the above photo was taken, Dylan was working on his 5th album. He was already an influential part of the civil rights movement and had turned folk music into an extremely fashionable genre. He was also just 24 years old!
Now, 49 years later, Bob Dylan is recognised as a major influence on everyone from the late Steve Jobs, to today's top Billboard artists. His music has also been covered by legendary performers from; Jimi Hendrix to Johnny Cash and The Beatles. His status as a legend is confirmed.
Sunglasses and the image of a legend
One of Dylan's great talents is his ability to reinvent himself and his image. One component of his image, which has endured since the very beginning, is his love of sunglasses. The above photo was taken almost 50 years ago and shows Dylan in a pair of original, Ray Ban Wayfarer Classics.
Wayfarer Classics were designed back in 1952 and quickly became popular with movie stars and rock stars alike.
Dylan helped make them relevant to a whole new generation, as his worldwide fame soared and photos appeared of him in the world's press.
In 2012, Dylan showed he still knew how to capture the attention of the world's media, when he wore a pair of Aviator sunglasses, inside the White House! He was there to accept The Medal of Freedom from President Obama. The president went on to say how he was influenced by Dylan's lyrics. Almost 50 years after the photo above was taken, Dylan can get media attention by deciding to wear his sunglasses, when others would opt for a more formal (less rock star) look.
And finally
Don't forget, CTS Wholesale Sunglasses is here 365 days a year, to help retailers provide high quality products to their customers. If you're a retailer and you would like to know more, simply click here.
We look forward to hearing from you.