Posted by James on 29th Sep 2014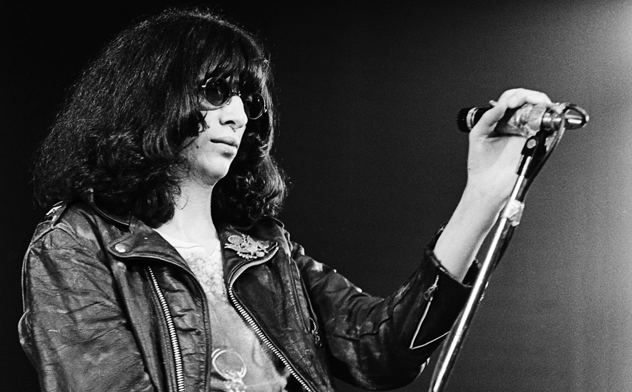 Few if any rock stars have been photographed in sunglasses as often as the punk legend, Joey Ramone. From the mid 1970's to his untimely death in 2001, Joey Ramone (real name Jeffrey Ross Hyman) was seldom spotted on stage or off, without sunglasses.
The recent U2 tribute single, "The Miracle of Joey Ramone", has helped a whole new generation discover the brilliance of one of music's most influential bands and their enigmatic front man.
The U2 connection with Joey Ramone is one, which runs deep. Joey is said to have been listening to U2's track "In a little while" when he passed away following a 7 year struggle with illness. From that day forward, whenever U2 performed the track, they mentioned Joey.
What design of sunglasses did Joey wear?
As this is a sunglasses site, the key thing I focus on in these posts is the connection between the image of the rock icon or movie star and their sunglasses. Usually, it's extremely easy to research the design or designs of sunglasses worn by them. After all, the companies behind the designs are usually very keen to let fans know what their heroes wore. Especially, when the star's image is as connected to sunglasses, as Joey's.
Interestingly, I wasn't able to find any reliable sources regarding the make / brand / design used by Joey. It seems his trademark rose colored shades are a bit of a mystery. However, there's certainly no mystery regarding the desire for anything related to him. Last year, a pair of Joey's sunglasses were auctioned for just under $8000.
Remember
Don't forget that CTS Wholesale Sunglasses is here 365 days a year, to help retailers provide high quality products to their customers. If you're a retailer and you would like to know more, simply click here.
We look forward to hearing from you.
Photo: Gus Stewart/Redfernds