Posted by James on 11th Apr 2015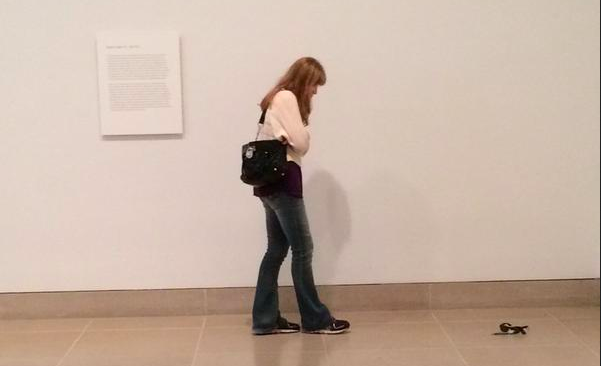 Sunglasses can be beautiful. Yes, there are some designs that are generic and dull, but most sunglasses are extremely well designed.
In fact, you could even say that some are works of art. Surely the "Manhattans" designed by Oliver Goldsmith, which featured in Breakfast At Tiffany's are a work of art?
Well, in today's post, we see an example of someone who put the power of well designed sunglasses to the test. At an art museum!
Sunglasses, a watch and abstract art
A Twitter user called "The Jack" visited the Dallas Museum of Art. Little did he know that an idea he had during his visit would see him featured in newspapers worldwide.
His idea was simple, yet clever. He decided to place his sunglasses (and wrist watch) together in a corner of a room, which was being used to display abstract art. He then observed, as visitors to the abstract art exhibition came into the room. Would they be fooled into thinking that his sunglasses and watch were an abstract art installation?
Jack then recorded their reactions, as one by one, visitors to the exhibition spent time enjoying his impromptu work of art. (See above). He posted these photographs on his Twitter account (@jackdudeham) and they quickly became a viral hit. At the time of writing this, there have been over 70,000 retweets and favorites of the original tweet. His experiment was also featured in newspapers throughout the country and in The Daily Mirror; a leading UK newspaper.
What is art?
In fairness to those who fell for Jack's prank, who says it wasn't art? Just because the guy doesn't consider himself an artist, his idea in itself showed a lot of artistic creativity. Also, people who attend an exhibition of abstract art are expecting to be challenged by the art they see.
One thing is for sure. If you want to get noticed, never underestimate the power of a cool pair of sunglasses.
And finally folks
Don't forget, CTS Wholesale Sunglasses is here 365 days a year, to help retailers provide high quality products to their customers. If you're a retailer and you would like to know more, simply click here.
We look forward to hearing from you.
Photo credit: @JackDudeham The Jack