Posted by James on 1st Aug 2014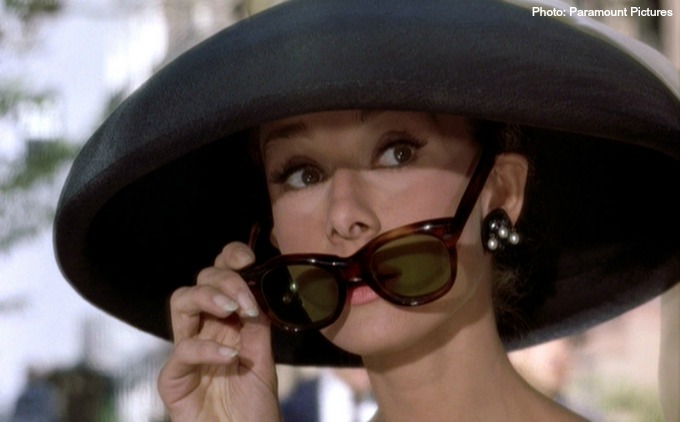 When it comes to style and glamor, Audrey Hepburn in Breakfast at Tiffany's is hard to beat. Hepburn played Holly Golightly; the sunglasses wearing, enigmatic star of the movie classic.
Sunglasses movie trivia
It is often claimed, incorrectly, that the sunglasses Audrey Hepburn wore in the movie were Ray Ban Wayfarers. Despite the number of times this has been repeated, it is 100% incorrect!
So, what did Ms Hepburn wear in the movie?
Drum roll please...
The actual sunglasses worn were a design called 'Manhattan', by the legendary British design company, Oliver Goldsmith.
Back in 2011, Oliver Goldsmith released a replica design of Holly Golightly's Manhattan frames. This was to celebrate 50 years since the release of the movie. As you can imagine, these collector's items were immediately snapped up, despite an eye-watering price tag!
However, for those who want the same look, without the price tag, tortoiseshell Ray Ban Wayfarers are a very close match. These are high quality sunglasses that will last you a lifetime, if you look after them correctly.
Wholesale Sunglasses trivia
In 1995, a band called Deep Blue Something had an international hit, with a track called Breakfast At Tiffany's. Although the video was shot in overcast weather conditions in New York, members of the band wore sunglasses at various points during the video. It's speculated that this was a homage to Audrey Hepburn's iconic shades. Clearly, it's not only sunglasses enthusiasts who realize the importance of Hepburn's Manhattan sunglasses.
Of course, there are many other movies, which have become iconic for lovers of sunglasses. So you can confidently expect us to be covering more examples of sunglasses in the movies, in future articles.
Tip: Remember to check back regularly.
How can we help you?
CTS Wholesale Sunglasses is here 365 days a year, to help retailers provide high quality products to their customers. If you're a retailer and you would like to know more, simply click here.
We look forward to hearing from you.