Posted by James on 23rd Oct 2014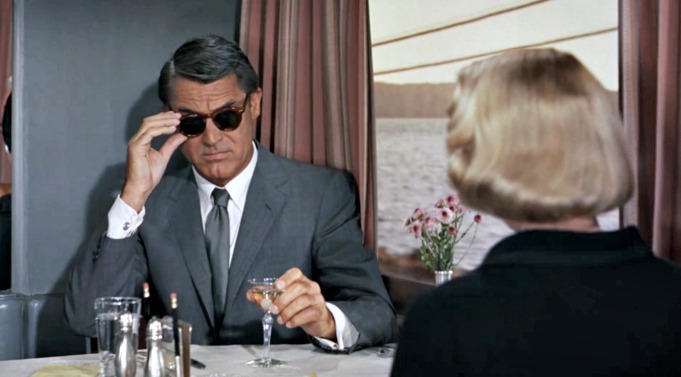 In today's Sunglasses in the movies, we look at the 1959 classic, North by Northwest. The movie was directed by legendary cinematic genius, Alfred Hitchcock and starred one of the most stylish men in movie history, Cary Grant.
Hiding in sunglasses... in style
In the movie, Grant plays Roger Thornhill: a suave advertising executive who is wrongly identified as a government agent. He's then pursued by bad guys and even the police, so, in an effort to avoid detection, he starts wearing sunglasses.
In the movie, Cary Grant's designer clothing, good looks and pseudo British accent combined to create an image, which wouldn't be out of place today. They say style is timeless and in this instance, I think that's correct.
By the way, Grant's unusual accent was the result of being born and raised in Bristol, England - before coming to America and becoming an American citizen in his twenties. The fusion of his British accent, with an American influence, is still imitated today.
The sunglasses mystery within a mystery
The cult status of North by Northwest, means that new fans are discovering the movie all the time. Many want to know what design of sunglasses Cary Grant wore. As I'm sure you will agree, they look great.
However, there seems to be no firm answer as to the make or design of the sunglasses!
Initially, it was believed that they were a vintage pair of Tart, Arnels. This is now known not to be the case, after Mary Tart herself chipped into the debate. She assured us that the sunglasses frames were thicker than anything Tart made. Unfortunately, despite working in the industry all her life, Mary Tart was unable to identify the design.
And finally folks
Remember, if you are a retailer who either stocks sunglasses or wants to become a stockist, CTS Wholesale Sunglasses are here to help. Just click here to get in touch.
We look forward to hearing from you!
Photo: MGM