Posted by James on 28th Aug 2014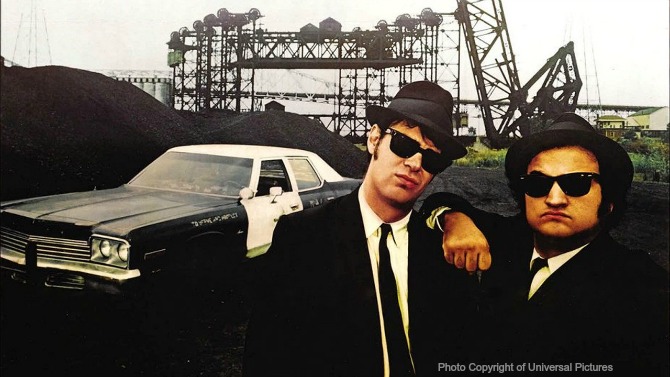 No series about sunglasses in the movies would be complete, without The Blues Brothers.
Comedy genius, great music... and sunglasses
Easily one of the funniest movies of all time, The Blues Brothers saw the late John Belushi and Dan Aykroyd revive their Saturday Night Live characters Jake and Elwood Blues, for a smash hit movie. It was the comedy hit of 1980 and remains a comedy classic today.
Jake and Elwood wore Ray Ban Wayfarers throughout the movie, even when it was dark! In fact, one of the most famous parts of the movie was the following dialogue:
Elwood: It's 106 miles to Chicago, we got a full tank of gas, half a pack of cigarettes, it's dark and we're wearing sunglasses.
Jake: Hit it!
The Blues Brothers and Wayfarer sales
Whilst we think of Wayfarer's today as an ever-popular design, this was not always the case. After the initial surge in popularity during the 1950's and 1960s, Ray Ban saw Wayfarer sales seriously decline. The release of The Blues Brothers in 1980 saw a sharp increase in sales, however, in 1981, sales were back down to just 18,000 pairs in a whole year -- unthinkable now.
Then something interesting happened. Within 24 months, sales of Wayfarers were up to 360,000, with the release of Risky Business and pop stars including Michael Jackson and Madonna wearing them. You can read more about the link between Risky Business and Wayfarer sales here.
The catalyst though, which caused the 1980's explosion of Wayfarer sales was The Blues Brothers. Before that, it looked like the design would be discontinued. The Blues Brothers made Wayfarers cool again.
Passionate about sunglasses
Remember, if you are a retailer who either stocks sunglasses or wants to become a stockist, CTS Wholesale Sunglasses are here to help. Just click here to get in touch. We look forward to hearing from you!