Posted by James on 30th Dec 2014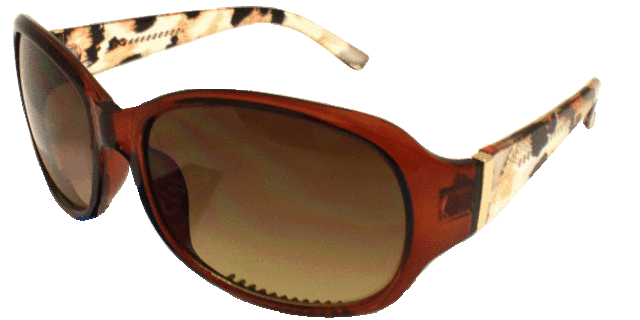 As regular readers will know, we love to bring you new ideas and innovations here on the CTS Wholesale Sunglasses blog. Today, I'd like to share a new sunglasses technology with you, which claims to solve a very common problem.
Sunglasses that stay on your head
Automotive worker Nancy Oram, from Birmingham Michigan, has created a new design, which combines traditional sunglasses with a hair band. The idea is that when you push your sunglasses up over your eyes to the top of your head, they stay in place because of the hair band grip that have been added to the traditional sunglasses frame.
[Note: If you look closely at the above image, you can see the grip on the lower edge of the frame, under the lenses.]
The idea came to Nancy, after she visited a ladies restroom. She turned her head slightly and her sunglasses fell from the top of her head and smashed on the hard floor. The sunglasses were ruined. As these were her favorite pair, Nancy set to work to come up with a better solution, to stop this from happening again.
Sunglasses and an Aha moment
It seems her "Aha moment" came when she realized that she would often position her sunglasses over her hair band, to help them stay on her head when she wasn't using them. She then looked for ways to combine the grip of a hair band, with a regular sunglasses frame. It was important that the look of the sunglasses wasn't compromised and that they fit comfortably, when worn as sunglasses or when positioned on top of the head.
Apparently, this was achieved and the sunglasses have already started to gather lots of attention. They only went into production in August 2014 and are set to feature on QVC early in 2015.
It will be interesting to see how popular the design becomes.
And finally folks!
Remember, if you are a retailer who either stocks sunglasses or wants to become a stockist, CTS Wholesale Sunglasses are here to help. Just click here to get in touch.
Photo credit: Stays On Eye Wear