Posted by Jim Connolly on 2nd Jul 2015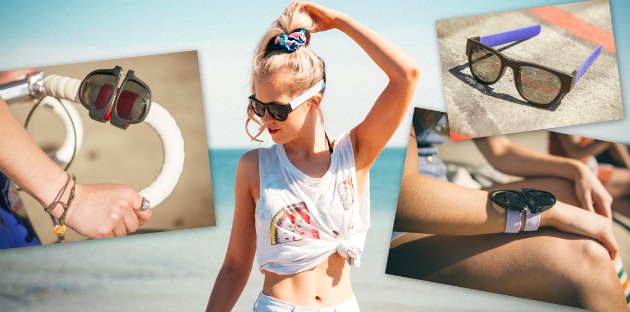 As regular readers will know, I love to share new innovations in the technology and design of sunglasses. In today's post, I'm going to share an innovation, based on an idea you may remember, from the 1990's.
One of the things about great design is that it often draws from the past, in order to make something unique and fresh. For example, when Apple created the iPad, it wasn't the first tablet device. The first communication tablets were made of slate centuries ago. Apple looked at what had gone before them, including PC-based tablets, and created something new.
What does that have to do with sunglasses?
Sunglasses that take us Back To The Future
Today, I learned about a new sunglasses design, inspired by the 1990's Slap Wrap bracelets. Remember them? They were bracelets that snapped around your wrist. They were invented back in 1983, by a high school shop teacher from Wisconsin named Stuart Anders. Here's an original piece from The New York Times, which covers the craze.
That product has now been given a whole new dimension, thanks to the team at SlapSee.
As you can see from the photo above, SlapSee sunglasses are designed so that you won't lose them. You can slap them onto your arm, your bike's handlebars, anywhere that you happen to be. This makes it far less likely that you'll leave them behind you.
I love the idea behind these sunglasses. I've lost several pairs in the past because I took them off when I was outdoors, put them down, then left without them. Let's see if they become as popular as the old school slap wrap bracelets.
We're passionate about sunglasses!
CTS Wholesale Sunglasses is here 365 days a year, to help retailers provide high quality products to their customers. If you're a retailer and you would like to know more, simply click here.
We look forward to hearing from you.
Photo property of SlapSee