Winter~Wond
erful Animal Hats!
Our Animal Hats are made of soft fleece, in adorable animal choices. There are wholesale animal hats for men, women and children of all ages. Our new animal hats are available in two very cool adaptations as well. One alternative is the standard style of winter hat, with the ear flaps ending in two cute balls. The second adaptation is what we call "Long Arm", where the ear flaps continue down, into mittens at approximately an arm's length down from the hood.
The animal hats were such a big hit this year at the fairs, Women, men and kids were seen sporting these on 85 degree days! Novelty aside, these are going to sell well all through the year. Children love wearing these hats while waiting for the school bus, and parent's love that their kid's don't lose their favorite animal hat. Teens are even seen wearing their animal hats! Popular with all ages, these animal hats really are selling quickly, and will sell well for you too.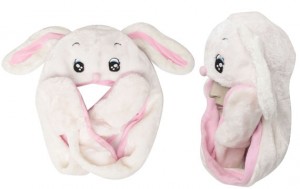 Animal Hats are a terrific gift idea, and are so popular this year, you can't go wrong picking up a few. We've made it easier than ever to shop our website too, so don't wait, it won't be long before these are gone! The animal hats are sold individually, and start at $3.50 for the Standard, and $6 for the Long Arm.
See our full selection of wholesale animal hats by clicking here...