As a retail shop owner you are most likely familiar with the peaks and slumps when it comes to sales and revenue. Although it may seem that it is out of your control to prevent these slumps in sales, there are a few steps you can take in order to ensure that the revenue continues to flow.
The following 5 simple ways to increase retail sales can help you during those slow periods:
#1 - Hold A Sale
When it comes to holding a sale, you definitely want to use the opportunity to get rid of some of that older stock that has been sitting on the shelves gathering dust. However, the promotional offer should also help drive traffic into your store. Not only will you have a chance at getting returning, loyal customers to purchase new items, but if done correctly you may also create some new customers as well. The key to holding any kind of sale or promotional offer is to build a sense of urgency. Try promoting your sale with a limited time offer, such as This Week Only! You can always extend the in-store offer if you have sufficient stock left over.
#2 - Update Your Window Display
To help promote your limited time only sale you will want to ensure that your window display is up-to-date. Not only is it a great way to promote any sales or promotional offerings you have going on, but by keeping your window display fresh and exciting you may be able to drive traffic into your store even without a sale. If you have the time -- which you probably do since sales are slow -- you should think about updating your window display every one to two weeks.
#3 - Invest In A POS Display
If you don't already have one, a POS (point of sale) display is a great investment, even when times are booming. A POS Display is simply a display stand placed near your checkout that encourages last minute purchases. It can easily work as another sales person, and best of all you won't have to pay them! A POS display can even help you to promote sales promotions as well as be used as part of your window display. We offer counter top displays like this sunglasses display and also free-standing displays like these Hat Displays.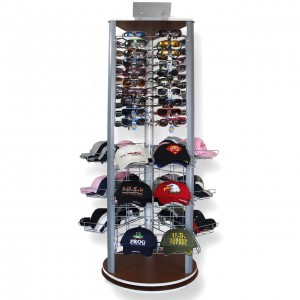 #4 - Relocate Stock
A great trick to try to move some of the slower items is to rearrange your items by relocating them to different areas of the store. Just because that pair of sunglasses has been a slow seller doesn't mean that customers are not interested in the design. It could just be that they have never had the chance to fully appreciate them. By rearranging the location of your items from time to time it will not only keep the store looking fresh, but it may also help to offload some of those slower stock items that don't seem to sell too well anytime of the year. Oh, and don't forget to keep your shelves fully stocked. It may surprise you, but some customers are just too shy to ask if you have a particular item in the back. If they don't see it on the shelf they may just think you are sold out and will move on to another store.
#5 - The Power Of The Upsell
Never underestimate the power of the upsell. Even though you may be in a slump for sales, by utilizing the upsell correctly you can very well help to recover some of that lost revenue. The key is to train your sales staff not to be too pushy. One way to do this is to use your upsell item next to the checkout to generate impulse puchases. For example, if you are holding a promotional sale for sunglasses, keep some sunglass cases, straps and repair kits next to the register. Train your staff to ask if buyers need any of these accessories while pointing them out.
Increase Retail Sales
Remember, sales may be slow, but they don't have to be. It is in your power to get yourself out of that slump and back on your way to the peak. Sometimes it just takes a little work.