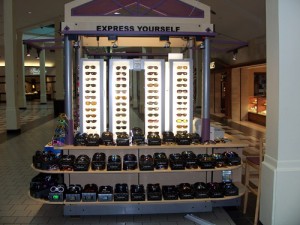 Direct selling from carts or kiosks creates retail buzz - plus a bit of nostalgia for town center bazaars - in standardized mall life. Well-managed mall cart selling offers win-win returns:
You, the product reseller or cart manager, get premium "storefront" real estate temporarily, with no expensive lease;
Mall management multiplies product offerings quickly and cost-effectively;
Customers get a wider range of products, prices and shopper experiences.
MALL CART BUSINESS TIPS
Here are tips and tactics for kiosk selling - Display, Customer Targeting, Supplier Hints, and Merchandising - from successful mall cart operators.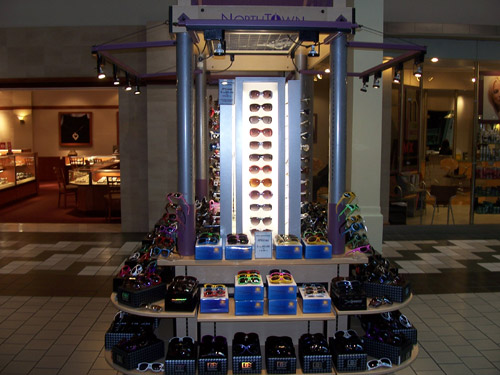 Specialty Carts Trump General Merchandise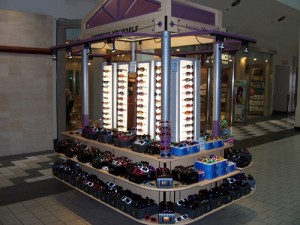 "The more you devote space to one product category on a cart, the bigger the impact. A cart filled with fashion sunglasses is more likely to be successful than a cart that has to mix sunglasses with watches." (Sergio Lopez, sunglasses retailer at Orlando Premium Outlets, "SpecialtyRetailReport.com")
Specializing in one product category demands focus, letting you display a wider range of styles, best-seller trend items and uses that appeal to your targets.
For example, a specialty sunglasses & eyewear cart offers Women's, Men's and Kids' lines; Sports sunglasses and Snowboarder goggles; latest Celebrity look-alike or Designer styles . . . if the kiosk's limited space is not also cluttered with watches, jewelry, fragrances. See over 30 categories of sunglasses, priced $8 and up/dozen - sports goggles and designer replicas to fun frames and seasonal party eyewear - from manufacturer-supplier CTS Wholesale Sunglasses
.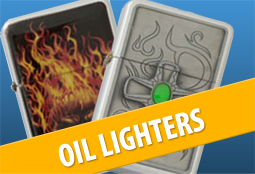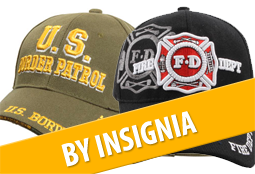 Specialty carts out-perform many-products carts because they display better, attract more attention and don't have a Swap Meet Clutter look (a complaint about carts with too many distracting product lines).
Successful specialty carts do use related products to bump up per-customer spend totals, with carry cases, clips, sports team insignia hats, and designer-style accessories. See stylish unisex hats and caps at CTS Hats. Check out CTS Graphic Oil Lighters too.
Enhance Kiosk Sales with Enhanced Displays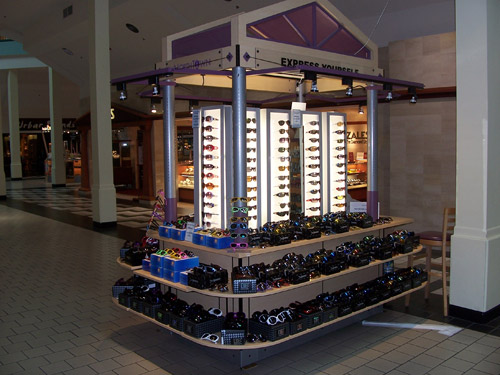 Cart display and presentation are eye-grabbers that stop browsers who may drift to department stores. (Browsers are worth snagging. According to International Council of Shopping Centers, browsers spend 15% more than "purposeful shoppers" - the ones with a purchase intention at specific stores. ICSC also found higher-dollar "impulse buys" by browsers.)
Best use of limited cart space is vertical. Display sunglasses in racks and stacks . . . sorted by Season, Style, Function or Target Market. Examples: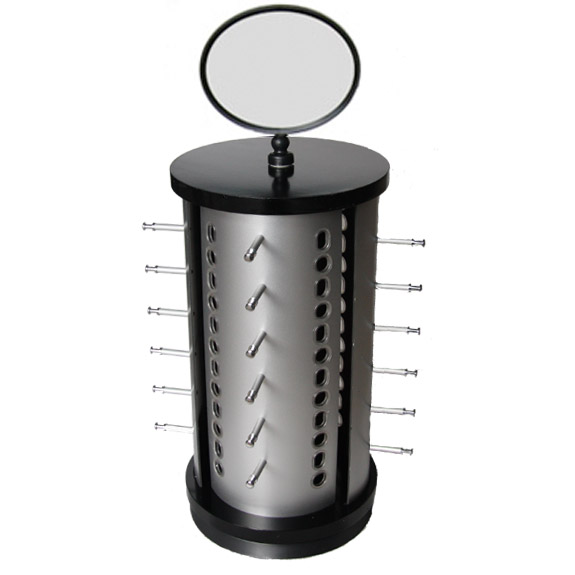 Top a countertop display of 4 to 24 pairs of glasses & goggles with "Snow Sports" signage, images of snowboarders and skiers. In Spring, top a masquerade eyewear rack with Mardi Gras images, colors and beads. Come Summer, swap out display décor to kiddie sand buckets, shovels and post cards.
If you carry Celebrity look-alike and Designer replica sunglasses, put a framed picture of a famous face on a sunglasses rack. (See also "Lady Gaga Inspired" Animal Print, Lace-Covered & Fun Glasses.)
Find eyewear display racks in all sizes (counter-top; floor models; rotating; locking; traveling, folding) scaled to kiosks at CTS Displays
Negotiate tie-ins with a Sporting Goods outlet in the mall. An anchor sports store may not stock deep or varied styles for accessories. But if you display multiple padded ski goggles; UV & glare-blocker sunglasses and XSportz™ (new metal-frame arrivals), your cart and the sporting goods store can share foot traffic.
Check with your product supplier, wholesaler or manufacturer for Selling Tools: Videos of product use; Gift Boxes; Information Sheets; Signs; Product Photos.
Hook Into Market Demographics
Geographic location, ethnic and age-group targeting, and trend watching offer access or "touch points" to potential kiosk customers, no matter where you park the cart.
Border Hoppers: Cart operators in large regional malls in northern latitudes of the Northeastern U.S. (including sales-tax free New Hampshire; outlet havens in Maine) see a lot of Canadian shoppers. Mall entrances and cart peddlers sport "Welcome - Bienvenue Canadians" signs. They track "foreign" sales separately to serve border hoppers' style preferences.
Hispanics: Are the fastest-growing ethnic group, and not solely in the Southwestern U.S. The largest minority group, Hispanics are projected to be majority ethnic group by the 2030 census.
This diverse group (Puerto Rican, Central-South American, Cuban, Mexican and long-time American Tejanos and Spanish immigrants) command a $700 Billion market. Specialty retailers who understand Hispanic buyers motives thrive.
Cart peddler impacts: Product styles, color preferences, marketing displays (Hispanic celebrities, sports stars, comedians, leaders) and unique holidays (Cinco de Mayo; Dia de los Muertos/All Souls Day; La Quinceañera rite of passage celebration for Hispanic Girls turning 15).
Asian (Pacific Rim): From data tracked by International Council of Shopping Centers, Asian mall shoppers have the highest conversion-to-sale rate of all shoppers at mall specialty stores and kiosks versus mall department stores. Asian shoppers also spent the highest dollar totals at mall shops.
Among Enhanced Display tips were signage and images of sunglasses worn by celebrities, athletes or seasonal/holiday promotions. Asian ethnic targeting could include displaying photos of the 88 Medal winners from the Beijing Olympics, including the China Men's Skating Team. All of which sported Oakley brand sunglasses for their rugged frames and glare-reducing lenses, another Sports + Celebrity ethnic touch point.
Trend Tracking: Keep up with latest and greatest styles, trendy brand names and customer preferences -- for UV-glare protection or for Planet Friendly frames or Shutter Sunglasses. Remember those? They're back.
Track the shopping habits of the ever-changing Teen/Generation Y demographic ages 18-to-28. See "We're over Trends in 2 seconds" in Huffington Post
Scan web sites of major suppliers and wholesalers - and subscribe to email, newsletter or mobile text alerts - to track trends in your product category. Focus on "Best Sellers" or "Most Demanded Search Terms" or "Search: Fashion Sunglasses".

Register with fashion accessories blogs, twitter feeds and market research sites, such as Word-Of-Mouth Marketers Buzz Agent. Or Insider City Guides (fashion, lifestyle, by product and region) at Daily Candy. Or trends of women of color at MocaCouture and Style Blazer reports.
Rules of Thumb & Help For Mall Cart Sellers
Source your resale product with the right suppliers - You need a markup of 3-to-5 times over wholesale to make mall rent (AVG $2000/ month or 15% of sales) and your ROI. Seek low Minimum Order requirements from wholesalers to stay flexible and keep inventory carry costs down.
"Historically, the most successful (mall cart) product categories have a retail price point of less than $20," noted consultant Sharon Loeff of Shopworks.
Last, you can buy-in with a Retail Mall Kiosk agent who will place you in malls, identify hot-selling items, ship products from their own suppliers and advise on pricing and merchandise. See:
Point Of Sale Stores (quick turnkey setup).
You can learn more about CTS Wholesale LLC. by watching our company video below.