Posted by James on 28th Jul 2014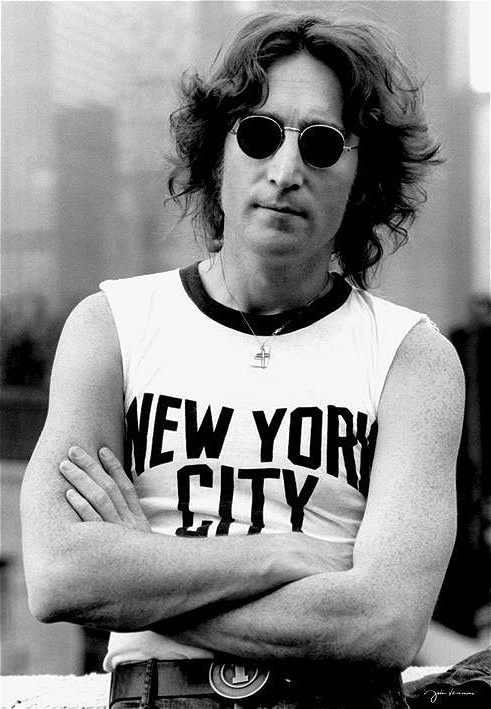 Here at CTS Wholesale Sunglasses, we were talking recently about the number of iconic photographs, which feature people wearing sunglasses.
It was the photo of John Lennon above, which immediately came to mind. It was taken by rock photographer, Bob Gruen. Gruen documented much of Lennon's life, after the superstar moved to New York.
Teashades, AKA John Lennon Sunglasses
As I wrote previously, there are a number of reasons why rock stars wear sunglasses.
Interestingly, in Lennon's case, he chose a style that didn't really disguise him. The sunglasses design he chose are called Teashades, though they are better known today as John Lennon sunglasses; such is the influence of Lennon as a cultural icon. Lennon was known as a man of the people and very close to his fans. This made Teashades a perfect choice.
By the way, there's a reason why we don't see too many people wearing Teashades sunglasses. As with every sunglasses design, with the possible exception of Wayfarers, certain shaped sunglasses only suit certain shaped faces. I cover this in a little more detail here.
Teashades are ideally suited to people, like Lennon, who have a longer shaped face. They look quite different when worn by people with a more rounded or heart-shaped face.
Looking at that photo, it's clear that the Teashades were a key part of the former Beatle's image. They were a constant part of his look, for the remainder of his tragically short life.

If you want to know more about The Beatles, there is an official Beatles museum in Liverpool, England. Called The Beatles Story, it chronicles the history behind the biggest band in music history, with lots of memorabilia from the fab four.
Here at CTS Wholesale Sunglasses, we're passionate about what we do and the role sunglasses play in our life and popular culture. If you found this interesting, I shall be sharing a few more iconic photographs featuring sunglasses in future articles.
Sunglasses are our passion!
That's right, we love sunglasses with a passion -- just ask our retailers!
That's why CTS Wholesale Sunglasses is here 365 days a year, to help retailers provide high quality products to their customers. If you're a retailer and you would like to know more, simply click here.We look forward to hearing from you.