Posted by Jim Connolly on 17th Aug 2015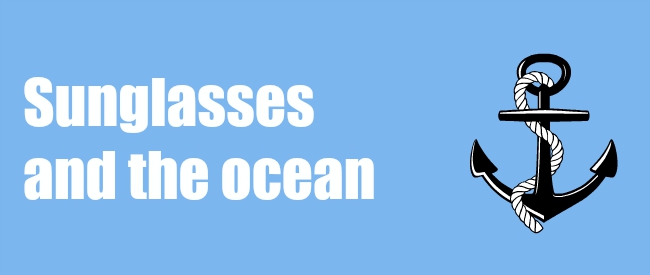 As regular readers will know, we like to share stories where the sunglasses industry embraces the environment.
In the past, I've written about how newspaper and hard wood have been recycled and used for sunglasses frames. I've also covered the way some companies are using bamboo for sunglasses frames.
Sunglasses and a worthy cause
Well, news reached me today of a truly innovative project. It goes beyond simply recycling a material or, as with bamboo, using a more eco-friendly material. This project is aimed at cleaning up a particularly nasty form of ocean pollution, and turning the pollutant into something useful!
The companies behind this venture are Buero Inc and Karün. As you know, our oceans have become heavily polluted with various plastics. One of the most harmful plastics in the ocean comes from fishing nets. Plastic causes all kinds of damage to the ocean, killing ocean life and creating waste that doesn't breakdown quickly or cleanly.
Buero Inc came up with a very clever initiative, to help make the oceans cleaner. It has partnered with ethical, Chilean based eyewear company Karün, to create the Ocean Collection. The venture upcycles discarded fishing nets into designer sunglasses. The sunglasses come with polarized, Carl Zeiss lenses and frame designs, which are inspired by the ocean.
However, it's what comes next that really impressed me.
Sunglasses making a difference
Buero Inc will invest money from each pair of Ocean Collection sunglasses, into expending their fishing nets collection and recycling initiative. It's a community-based venture, which aims to help empower the coastal communities that suffer most from plastics pollution.
Whilst researching this post, I have to say I was amazed to discover the extent of the problem. A staggering 8 million tons of plastic pollution enters the oceans every 12 months. On a more positive note, it's refreshing to see the sunglasses industry yet again stepping up to help contribute to a cleaner and healthier environment.
Wholesale sunglasses
… is what we do. It's our passion, just ask our retailers! if you are a retailer who either stocks sunglasses or wants to become a stockist, CTS Wholesale Sunglasses are here to help. Just email us or call us, using the contact details on the top right of this page.
We look forward to hearing from you!