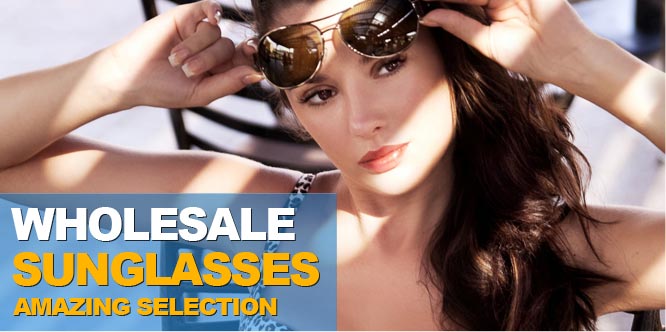 So what is it
that women want when it comes to discount brand name sunglasses? Even though they love the great brands, they want style, style and more style. So with style comes variety. If you only have one style of sunglasses for women, you will not be satisfying more then eighty-five percent of the female population. What do you think we are, men? So the best thing you could do for your store is have a display of multiple styles, many different colors, shapes and sizes.
Another trait of most women is that they like to coordinate their style and the color of their hair and skin tone. For instance, if a women has naturally dark brown hair and eyes, and medium to darker skin they probably will float towards a tortoise shell frame with a brown lens. These will be an everyday sort of sunglasses, which can be worn with virtually anything. Now for special occasions she might want something fun like a large white or maybe a reflective silver lens. If this is the case, then not having a variety of colors and shapes will lose you the sale.
Variety is what women want. At CTS Wholesale Sunglasses we understand that. We have a huge variety of brand name sunglasses for women that will make them purr like kittens and smile from ear to ear. Watch your displays fill and empty again and again with the variety of our discount sunglasses. Because of your purchasing savvy, your store or event display will become the place in town to get great sunglasses at affordable prices. And you will walk away with a few pennies in your pocket to boot. Come and visit us today and see for yourself the great variety of brand name sunglasses and fill your display with popular, stylish and great items.
Remember that CTS Wholesale Sunglasses is not just sunglasses. We can help you with great hats, lighters, and reading glasses too. Bring a huge variety of items to your store and walk away with profits. All of our products are bought by the dozen to provide you with inventory to keep your store running smoothly and efficiently. Our customer service agents are highly trained and ready to assist you. Contact us today and see for yourself the wide variety of stylish brand name sunglasses, reading glasses and much more that we have for you. You won't be sorry, in fact you and your wallet will be happy.