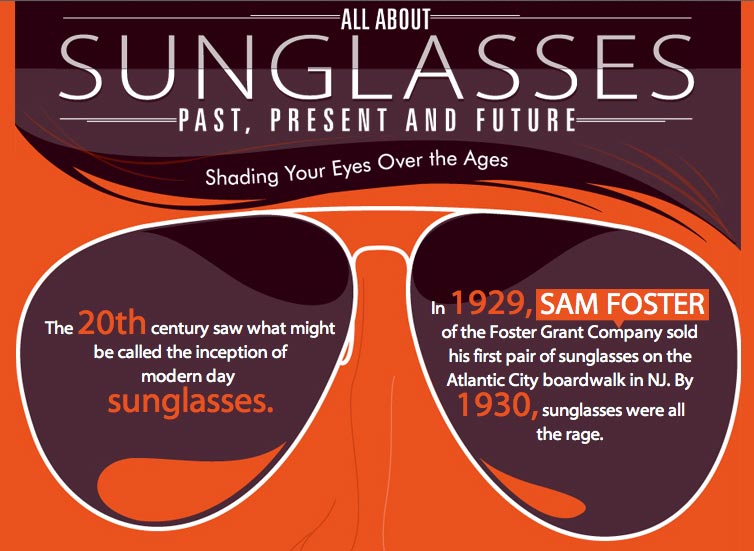 Click image to see our fun Infographic on the History of Sunglasses: Past, Present and Future
Have you ever come across someone wearing a pair of amazing sunglasses and thought to yourself, 'Where can I find sunglasses like those?'
It doesn't really matter if you saw the sunglasses in a movie, on television, or just someone who passed you on the street; it is in our human nature that when we see something we like, we just need to have it.
This dilemma most likely first occurred around 1929, when Sam Foster sold his first pair of sunglasses on the Atlantic City boardwalk in New Jersey. Of course, at that time he was the only person in the whole world selling sunglasses, so they were pretty easy to find.
By the time the 1950's rolled around there were many more styles and designs available. Tracking down a specific pair became a little more difficult. In the 50's it was the Stars of the Silver Screen that set the fashion trends, so even if you didn't know the name of the style, you could simply ask for a pair of Marilyn Monroe's and people would know what you were talking about.
In the 60's and 70's it was the rock stars, and remarkably politicians - well the wife of a politician that is - that set the trend for sunglasses. Even to this day if you refer to a pair of sunglasses as Jackie O's the majority of people will know exactly what style you mean.
The 80's and 90's saw a rise in plastic molded frames. With this technology the sky was the limit when it came to designs and styles. From shutter shades to wraparound sunglasses, and everything in-between, tracking down that cool pair of sunglasses you glimpsed on the street became quite an arduous task.
FIND SUNGLASSES
Then came the new Millennium. With the help of the Internet, locating that 'must-have' pair of shades became easy. In fact, you can now find sunglasses just like any pair you've seen and purchase them from the comfort of your own home!
Sunglasses, and especially finding where to get them, has come a long way in the last 84 years.
For a more in-depth look at sunglasses through the ages check out our new History of Sunglasses infographic.